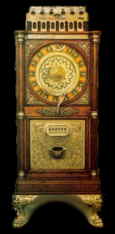 Service Call: Service calls within the 25 mile radius, (map) illustrated on our map are at a rate of $65 for the first 30minutes and $45 per hour thereafter, plus parts. Due to the fact that service and repairs to slot machines are somewhat time consuming, we recommend you bring your slot machine to our shop. Please contact us to make an appointment for a shop visit.

mnmfreighthouse@gmail.com
Sales: In addition to providing service for your slot machine, we also buy and sale slot machines. If you no longer use your slot machine , we will be happy to help you find a new home for it. If you are looking for a specific model, we can help there also.